Waste King
Waste King garbage disposals are manufactured by Anaheim Manufacturing company which is owned by Moen Incorporated which is, in turn, part of Fortune Brands Home & Security.
They manufacture Waste King Legendary series as well as a Commercial line of garbage disposals.
They are located in Ohio, United States.
Waste King is a globally leading manufacturer in this industry and their products are renowned for the use of cutting-edge technology and reliability.
My Review Of The Best Waste King Garbage Disposals
Waste King has around 14 models of garbage disposals. Understandably it is not much difficult to find the best among them but I guess it helps anyway if I do that for you.
So here is my review of the best Waste King garbage disposals;
L-111 – Best 1/3 HP Garbage Disposal By Waste King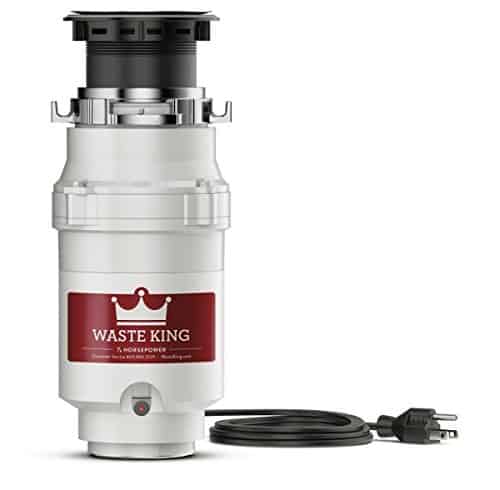 If you are looking for a small, affordable Waste King garbage disposal then this is the best one for you.
This is the least powered sink disposal by the manufacturer. Sporting a 1/3 HP model it runs at an RPM of 1900.
It uses a permanent magnet motor, which is one reason why it is light weight. It is not that quiet, since this is a very base model it has no sound insulation at all.
But on the plus side the L-111 is cheap and come with a longer warranty (2 years) than the competition.
When compared with competitors this is the best 1/3 hp disposal you can get your hands on.
If you are living alone or with just one other person a 1/3 hp disposal is the most ideal solution for you. It may not be able to grind large chunks of food wastes down the drain but if you are living in a dorm room or in a similar setup this is the best suitable Waste King garbage disposal.
L-2600 – Best ½ HP Waste King Garbage Disposal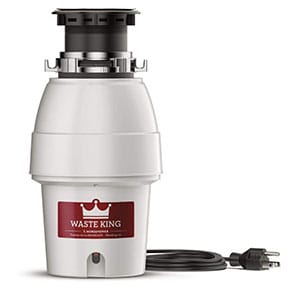 The L-2600 is an apt choice for a household up to 4 people.
Powered by a 1/2HP model this Waste King garbage disposal is capable of disposing of most food wastes down the drain. The high-speed motor allows its blades to run at 2600 RPM which is very effective in avoiding jams.
Its light-weight and compact body along with EZ mount make installation very easy.
It comes with a 5-year limited warranty.
The price difference between L-111 (the disposal I mentioned above) and this model is only a few bucks so I would definitely recommend you to buy this disposal is possible.
L-3300 – Best ¾ HP Waste King Garbage Disposal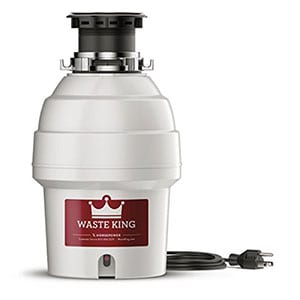 Waste King Samurai L-3300 is powered by a ¾ HP permanent magnet motor. It runs at a speed of 2700 RPM.
Unlike the above two disposals, the L-3300 comes with noise insulation. I won't say it is on par with some of the top models but for the price you are paying its noise insulation is excellent.
It also comes with a 10 year limited in-home warranty which makes this disposal trustworthy among many. It is also very durable according to many customers on different review sites and online marketplaces.
If you are living with 4 or more people I would suggest this Waste King garbage disposal. It is capable of disposing of food wastes in large quantities, reliable and durable. In addition, this disposal is priced very competitively.
Considering all its pros this is definitely one of the best garbage disposals by Waste King.
A1SPC Knight – Best 1HP Garbage Disposal By Waste King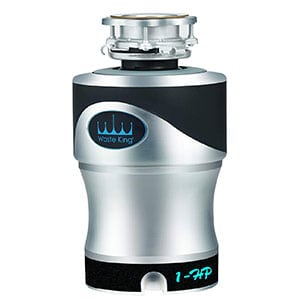 The A1SPC Knight is comparatively a new model by Waste King. They lacked a top of the line disposal so to A1SPC Knight was made to fill that space.
As you expected this product is crammed with many features. Much different from other models Waste King gave this disposal a much stylish and modern look.
One of the areas Waste King went behind was noise insulation. Their competitor InSinkErator produced ultra-quiet disposals, and A1SPC Knight is Waste King's answer to them. It features ultra-quiet noise insulation which is as good as the competitors top end models.
The 1 HP motor running at 2700 RPM offers more power pound than many of its competitors. It can even manage to grind chicken and fish bones which are not recommended in the case of a normal garbage disposal.
In addition the A1SPC Knight is covered under a lifelong limited warranty.
Good performance, noise insulation, longest warranty and affordable price, this is definitely one of the best Waste King garbage disposals.
L-800 – Best Value For Money Waste King Garbage Disposal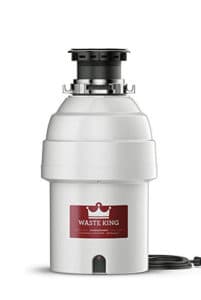 My favourite disposal from Waste King is their L-8000 model. With 1HP of brute power running at 2800 RPM, it is hard to believe any food particle will escape its fury.
In addition, it comes with a lifetime corrosion warranty! That's the longest warranty available for a garbage disposal ever. Power + guarantee are always a tempting combination. And price wise it is not that costly either.
If you still don't like it look at its Amazon reviews. Till date, it has over 6000 reviews with an average of 4.4/5, not many products, let alone a garbage disposal, has that appeal.
Features Of Waste King Garbage Disposals
Waste King garbage disposals, since made by the same manufacturer, comes with a lot of common features. These features make Waste King one of the main players in the kitchen appliance industry.
Here are those features;
High-speed operation
Most Waste King disposals run at high speeds. The lowest powered ones run at 1925RPM while all others including 1/2HP and more run at speeds in the range 2600-2800 RPM. Most of the disposals by other brands run at lower RPMs below 2000. The advantage of having a high-speed motor is that it tends to jam less. The high speed produces enough torque to cut though jams so they don't need any fancy technologies like Auto-reverse.
Small & lightweight Permanent magnet motor
Waste King garbage disposals come with permanent magnet type motors while some other brands use induction motors. These types of motors are lightweight and smaller in size. They are also far more efficient than the latter.
Grinds faster
Since these disposals use high-speed motors the grinding of food wastes is done at twice the speed than most competitors.
Uses Less water
Faster grinding means less water. Over a long-term, a Waste King garbage disposal can save a lot in your water bill.
Less energy consumption
Permanent magnet type motors consume less energy than induction type motors. This is because they do not require electricity to power their magnets.
Power cord installed
All Waste King garbage disposals come with a power cord preinstalled. This makes installation much easier.
Usually cheaper than competition
Waste King disposers are comparably cheaper than its competition, prices fluctuate at times but generally, it is so.
Longer warranty
Their products usually have longer warranties than their main competitor InSinkErator. Here is their own comparison guide
The reset button on the front
They all have their rest button on the front which is easier to spot.
Septic safe
All Waste King garbage disposals are septic safe for properly sized septic tanks.
Stainless steel cutters
The cutters on the turntable of all their disposals are made of Stainless Steel which is corrosion resistant.
Removable splash guards
Their splash guards are removable allowing easy access while cleaning the disposal. Some of their competitors' aren't so.