Best Waste King garbage disposals for 2018
Waste King garbage disposals are manufactured by Anaheim Manufacturing company which is owned by Moen Incorporated which is, in turn, part of Fortune Brands Home & Security. They manufacture Waste King Legendary series as well as a Commercial line of garbage disposals. They are located in Ohio, United States. They one of the globally leading manufacturers in this industry and their products are renowned for the use of cutting-edge technology and reliability.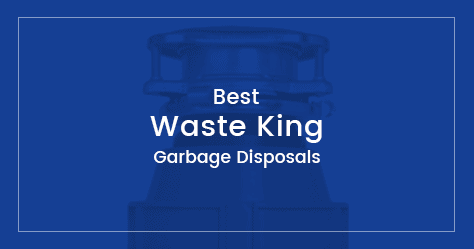 Common features all Waste King disposals share;
These garbage disaposals, since made by the same manufacturer, comes with a lot of common features. Here they are;
High-speed operation
Most Waste King disposals run at high speeds. The lowest powered ones run at 1925RPM while all others including 1/2HP and more run at speeds in the range 2600-2800 RPM.  Most of the disposals by other brands run at lower RPMms below 2000. The advantage of having a high-speed motor is that it tends to jam less. The high speed produces enough torque to cut though jams so they don't need any fancy technologies like Auto reverse.
Permanent magnet motor
Waste King garbage disposals come with permanent magnet type motors while some other brands use induction motors. These types of motors are lightweight and smaller in size. They are also far more efficient than the latter.
Grinds faster
Since these disposals use high-speed motors the grinding of food wastes is done at twice the speed than most competitors.
Less water
Faster grinding means less water. Over a long-term a Waste King garbage disposal can save a lot in your water bill.
Less energy
Permanent magnet type motors consume less energy than induction type motors. This is because they do not require electricity to power their magnets.
Power cord installed
All Waste King garbage disposals come with a power cord preinstalled. This makes installation much easier.
Usually cheaper
Waste King disposers are comparably cheaper than its competition, prices fluctuate at times but generally, it is so.
Longer warranty
Their products usually have longer warranties than their main competitor InSinkerator. Here is their own comparison guide
Reset button on the front
They all have their rest button on the front which is easier to spot.
Septic safe
All Waste King garbage disposals are septic safe for properly sized septic tanks.
Stainless steel cutters
The cutters on the turntable of all their disposals are made of Stainless Steel which is corrosion resistant.
Removable splash guards
Their splash guards are removable allowing easy access while cleaning the disposal. Some of their competitors' aren't so.
My favourite Waste King disposer
My favourite disposal from Waste King is their L-8000 model. With 1HP of brute power running at 2800 RPM, it is hard to believe any food particle will escape its fury. In addition, it comes with a lifetime corrosion warranty! That's the longest warranty available for a garbage disposal ever. Power + guarantee are always a tempting combination. And price wise it is not that costly either.
If you still don't like it look at its Amazon reviews. It has over 6000 reviews with an average of 4.4/5, not many products, let alone a garbage disposal, have that appeal.
I have previously done a complete review of this model which you can find here.