You came here looking for stainless steel garbage disposals. right?
But do you know that there are no disposals made 100% of stainless steel?
That's right.
If a manufacturer says his garbage disposal is made of stainless steel it simply means that its grinding chamber, as well as grinding components, are made of stainless steel.
Then why the big fuss?
Using stainless steel gives some benefits. As the name says it is stain'less'. It is resistant to corrosion and stain. The disposals made of stainless steel are expected to be last much longer.
Stainless steel vs galvanized steel
For those not familiar with metallurgy there are different types of steels, but only two are relevant to us here, and they are Stainless steel and galvanized steel.
Steel is an alloy of carbon and iron.
When you add a bit of chromium to steel(11% to be exact), it becomes stainless steel.
When you dip steel in molten zinc, it gets a zinc coating. Both together is called galvanized steel.
The grinding chambers of most garbage disposals are made of either galvanized steel or high-quality plastic. But all their grinding components are stainless steel.
Then what disposals qualify to be called stainless steel disposals?
Well, that generally falls to those disposals whose grinding chamber, as well as grinding components, are made of stainless steel.
Stainless steel garbage disposals are very resistant to corrosion and hence they are durable. But they are also costly. So those disposals which are made of stainless steel are usually the top end models, and so far only the Evolution series by InSinkErator have them.
So here is my list of stainless steel garbage disposals;
Best stainless steel garbage disposal units
1. InSinkErator Evolution Excel
Evolution Excel is an excellent garbage disposal that's crammed with all the features you can find. It has a 3-stage grinding system, built completely with stainless steel, have 1 HP power and runs at 1725 RPM. It is ultra-quiet; it is the quietest garbage disposal. It also comes with features like Jam sensor circuit, Auto-reverse grind system etc.
Read the complete review of Evolution Excel
2. InSinkErator Evolution Septic Assist
This is a ¾ HP disposal which automatically releases a bio-degrader enzyme when in use. This technology called Bio-Charge helps to break-down food wastes and control odours. The Septic Assist disposal a 2-stage grinding system and has good noise insulation while not as good as the Excel model.
Read the complete review of Evolution Septic Assist
3. InSinkErator Evolution Essential
This is another top end model which sports lots of premium features like 2-stage multi-grind system (same as the septic assist model) and Sound seal technology for a quieter operation. The stainless steel build gives it a longer lifetime. Unlike the other two above this is a batch feed type garbage disposal.
Read the complete review of Evolution Essential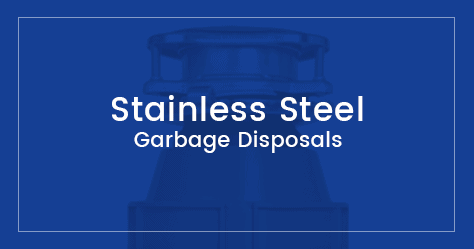 Here is a comparison
InSinkErator Evolution

Excel

InSinkErator Evolution

Essential

InSinkErator Evolution

Septic Assist

Power
1 HP
3/4 HP
3/4 HP
RPM
1725
1725
1725
Feed type
Continuos feed
Batch feed
Continuous feed
Build
Stainless Steel
Stainless Steel
Stainless Steel
Chamber capacity
40 oz
40 oz
40 oz
Grinding stages
3
2
2
Features
Ultra-Quiet SoundSeal Technology, Auto-Reverse with Jam-Sensor Circuit
Quieter SoundSeal Technology
Quieter SoundSeal Technology
Warranty
7 years
6 years
4 years
View Price & Details
View Price & Details
View Price & Details
As you can see from the comparison table InSinkErator Evolution Excel is the best stainless steel garbage disposal.
But if you are looking for a batch feed type one look no further than InSinkErator Evolution Essential.