The average American uses outdoor garbage cans for water storage, pet waste, storing pet food, winemaking, and of course disposing of garbage.
This would be a really long article if I am going to write about the best choices for all of the above, so I decided to stick with waste disposal.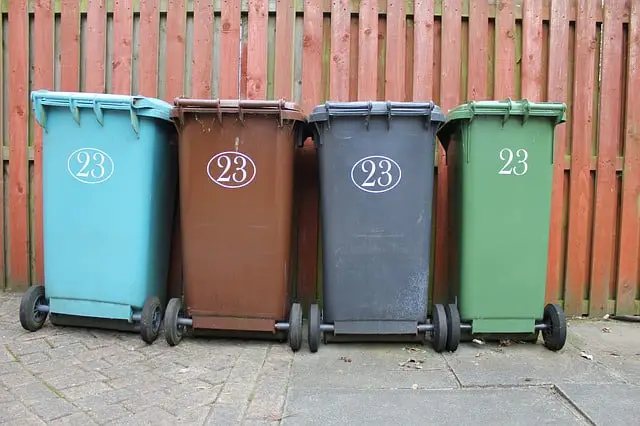 So, which are the best outdoor trash cans?
Toter heavy-duty trash can
Rubbermaid Brute
Rubbermaid Brute Specialty Rollout
Carlisle Bronco
Behrens steel trash can
Toter heavy-duty trash can with locking lids and wheels
'Toter' manufactures one of the toughest and most durable trash cans for outdoors.
The two biggest concerns when buying a trash can are mobility and pet resistance. The Toter trash can address these problems very well. It comes with two big wheels, and the best tilt to roll ratio, so it is very easy to maneuver even when it's fully loaded. It also has a lockable lid, which prevents any animals from getting into the trash.
In addition, this garbage can is pretty stable even when fully filled, so your pets are going to find it very difficult to tip it over.
Toter uses a patented molding technology called 'Advanced Rotational Molding'. According to them, this is a 'stress-free' manufacturing process which makes the material flexible and durable against shocks. This prevents any possible damages to the trash can during automatic trash collections. It also makes the trash can capable of withstanding harsh outdoor conditions for years.
Another notable feature is its outside texture. It has a Blackstone finish, which not only stands out, but also masks any scratches or minor damage. Moreover, any areas that are more likely to be worn by daily use are reinforced.
It is available in 32, 48, 64 and 96-gallon sizes. Even with such large capacity, its profile is narrow enough to pass through doors and gates.
It is compatible with automatic and semi-automatic curbside collection.
This garbage can is 100% recyclable. In fact, 50% of it is made from recycled materials.
Obviously, this garbage can is also used for various purposes other than garbage collection. It is a good choice for storing and transporting industrial items or pet foods.
In conclusion;
The Toter trash can is best at everything whether it is mobility, durability, size, animal resistance or looks. I couldn't find any con that matters.
Rubbermaid Brute
Rubbermaid is very popular for its trash cans. They have different models both for indoors and outdoors.
Brute is a commercial grade trash can made by Rubbermaid for outdoor and industrial uses. It is comparatively inexpensive, but let me start with a con first. Brute doesn't have wheels, so I had to drag mine to the curb.
But other than missing the wheels it has everything desirable for a garbage can. I have two of these. I use one for storing water, and the other to keep my dog's food in. I had another, but it got stolen so I bought a Toter one instead.
The build of the Rubbermaid Brute is pretty good. It is thick and nearly indestructible. It can also withstand long and harsh climates without warping or breaking. It has molded, non-slip handles on the side to make dragging or lifting it easier.
You can also get an optional snap-on, air-tight lid. But the lid is not attached to the trash can, so it is possible to lose it sometimes.
I think Brute is more used as a storage container than as a trash can, as it is an excellent choice for industrial and household storage.
Rubbermaid Brute Specialty Rollout
Brute and Brute Specialty Rollout are very similar in their name, but they look entirely different. Obviously, they have a lot of similarities but I bet you are interested in their differences.
The main difference of Brute Rollout is that it has wheels. In fact, Rollout is the collective name of models with wheels. These models differ in various aspects, and the Brute Specialty Rollout is one such model.
Brute Specialty Rollout has four wheels, with two of them being castors. And, it has a foot pedal that opens the lid. These are two things you don't see on most outdoor garbage cans.
It is built with commercial-grade, UV resistant materials. It can also withstand sub-zero temperatures for years. The step-on feature makes it easy to put trash or other materials into the container. The 4 wheels give it more control, though running the castor wheels on your pavement is not going to be easy. I think they are mostly meant for industrial uses, such as transporting materials from one place to another.
The foot pedal works fine, and the castor wheels can be locked. The lid can be opened fully (at a 270-degree angle) but only manually. It is also compliant with auto-lifters.
One notable feature is that the lid when fully opened stays in position. It doesn't swing during transportation. I bet this is a feature many people are interested in.
Overall the Specialty Rollout is a good choice, especially if you are looking for a trash can with a foot pedal.
Also, feel free to check for other variants of Rollout here.
Carlisle Bronco Waste Container
Bronco is almost like the Rubbermaid Brute, as they have almost the same design and build quality.
It is available in a number of sizes including 10, 20, 32, 44, and 55 gallons. It doesn't come with a lid, but you can purchase one separately.
And one good thing about the lid is it has a hole through which you can put a zip tie and secure it with the handle. The lid is air-tight so you can use it as a container for storing food (The container is NSF certified, so it is food safe).
In terms of build quality, it is strongly built, flexible and can withstand rough use over the years in outdoor weather.
This one is a good alternative to the Rubbermaid Brute.
Behrens galvanized steel trash can
If you are looking for a metal trash can for outdoors this Behrens galvanized steel can is a good choice.
You guessed correctly; it is made of galvanized steel.
It is a 10-gallon trash can and definitely not suitable for curbsides. Most of its uses include disposing of pet poop or storing pet foods and other dried goods.
The galvanized steel construction can pretty much last long in any weather, but not forever. It is good to last for around 10 years if kept in wet conditions, but if the galvanized coating is damaged it will rust pretty fast.