InSinkErator Badger 5, 1/2 HP Food Waste Disposer has been the best selling garbage disposer in Amazon.com for a long time. The badger line offers a wallet-friendly solution for waste disposal.
The 1/2 HP motor is more than capable of perfectly juicing organic wastes like fruit peels, vegetables, meat, and even small bones. It uses a single-phase Dura-Drive induction motor and is capable of running at a speed of 1725 RPM. The single-stage grinding system with two rotating hammers delivers enough crushing power to liquefy most household wastes.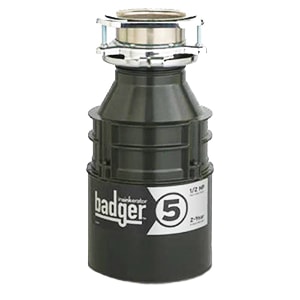 The InSinkErator Badger 5 is not exactly a silent gadget, in fact, it is noisier than most of the high-end disposers. But considering the cost factor, it is easy to forgive this extra noise.
Specifications:
Type of Feed – Continuous
On/Off Control – Wall Switch
Motor – Single Phase
HP – 1/2
Volts – 120
HZ – 60
RPM – 1725
Amp. (Avg. Load) – 6.3
Time Rating – Intermittent
Lubrication – Permanently Lubricated Upper & Lower Bearings
Shipping Weight (Approx.) – 14 lbs.
Unit Finish – Waterborne Grey Enamel
Overall Height – 12-5/8"
Grind Chamber Capacity – 26 oz.
Motor Protection – Manual Reset Overload
Average Water Usage – 1 Gallon Per Person Per Day
Average Electrical Usage – 3-4 KWh Per Year
Drain – 1-1/2"
Anti-Vibration Connection – Hose Clamp
Dishwasher Drain Connection – Yes
This disposer is made of Galvanized steel and has a chamber capacity of 26 ounces which is enough for a small family. It has an approximate width (radius) of 7 inches and a height of 13 inches, a compact design suitable for any sink.
The InSinkErator Badger 5 comes with a quick-lock sink mount, a sink baffle, stopper, discharge tube and a wrenchette. It is easy to mount especially if you were using a similar waste disposer like its 1/3 HP version. Step by step installation directions is given in its installation manual.
It comes under a warranty of 2 years with any maintenance/repairs done free.
Reviews And Ratings;
InSinkErator Badger 5, 1/2 HP Food Waste Disposer is the best selling product in its category. So far it has got 2400+ positive reviews which show how much popular this disposal is.
InSinkErator Badger 5 – Final Words
Like every product, this has some cons as well. Some users, though few when compared to the overall rating, had leaking issues resulting from the cracks on the disposal units. For most these issues happened after a service of 4-6 years, well out of the warranty period. Other than this, Badger 5 is the most desirable economic garbage disposal.