Commercial garbage disposals are more rugged, powerful and efficient than household ones. They are capable of continually operating for long hours and available at horse power ratings from 1 to 11HP. They are used by various business establishments like hotels and bakeries. They are also pricey costing upto $7000! but they don't come with any fancy features or fancy designs, they just do their job, efficiently. They are usually bigger in size and often weighs a lot.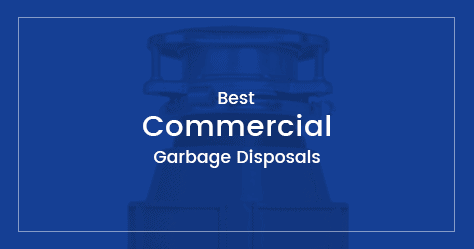 Waste King Garbage Disposal 1500-1, 1.5 HP Commercial Food Waste Disposer
Waste King 1500 is a relatively low-cost garbage disposal suitable for small establishments. It is powered by a single phase 1.5HP motor and runs at an rpm of 1725. Its design is quite rugged to withstand shocks and all day long grinding jobs. It is a single stage disposal where food wastes undergo only a single stage of grinding, the raw power enables it to grind wastes to pulp within that stage. The permanently lubricated bearing and the dynamically balanced turntable helps smooth operation over long hours. Also, the motor is cooled via a fan to avoid overheating on any such operations.
While household disposals are available with a 1HP rating at a much lower price they are not heavy duty machines. To know the difference, for example, the premium series InSinkErator Evolution Excel 1.0 HP Household Garbage Disposer costs only around 300 USD with the same 1HP rating but it weighs only 23 pounds whereas this Waste King Garbage Disposal 1500-1 weighs 55 pounds. It has a manufacturer warranty for 14 months.
View price and product specifications
InSinkErator Garbage Disposal LC-50-11 Light Capacity Commercial Waste Disposer
This is a light capacity disposal for small establishments. It is powered by a 1/2HP motor which runs at 1725rpm. This is the least expensive commercial disposal, the manufacturer made it so targeting small establishments like bakeries. For them, a high powered costly machine is totally unnecessary. It has an overall size of 13.6x13.63x14.5 inches, which is bigger than a household one. Its grinding chamber is made of steel and the blades with cast nickel chrome cutting element to avoid rusting over long-term use. It weighs around 35 pounds.  It uses a standard #5 flange that will fit most sink openings. It has the flexibility of a household disposal with the vigour of a commercial one.