As you know garbage disposals are installed under the sink and they take about 12 to 18 inches height of space there. It is also advised to have 6 to 12 inches of extra space under the disposal so it is easy to install and dismantle them. So, in general, you need to have around 2 feet of space under your sink to install a garbage disposal.
But not all kitchens have this, especially if you are using deep sinks. So the solution is going for compact, low profile models. That's why I am listing here the best compact garbage disposals.
Please note that these are not the only compact disposals available but I am listing only the best of them. Here they are;
Top 5 Compact Garbage Disposals For Deep Sinks
Here is my list of the best compact garbage disposals;
InSinkErator Evolution Compact
InSinkErator Evolution Excel
InSinkErator Badger 5
Waste King L-1001
Kitchen Aid KCDB250G
As you can see my list is dominated by InSinkErator models. Yes, the best compact garbage disposals are made by InSinkErator. Waste King, their main competitor, hardly has any top end low profile disposals so I chose L-1001 due to its popularity.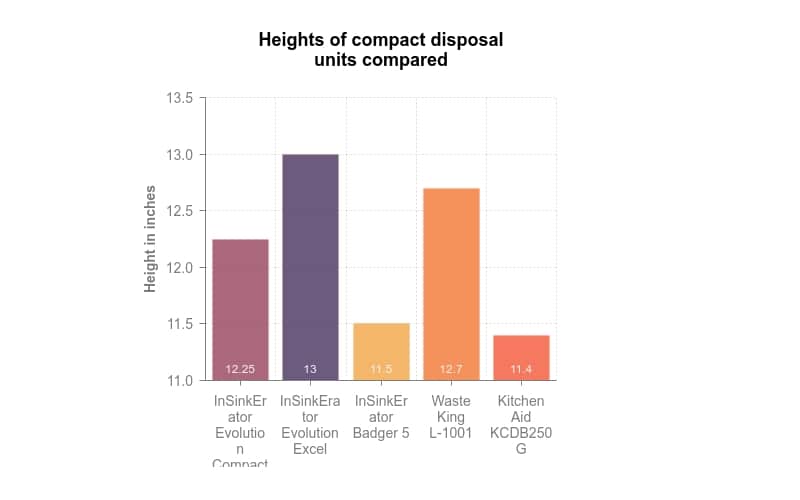 How Did I Decide What A Compact Disposal Is?
InSinkErator Evolution Compact has the term 'compact' in its name, so I simply chose it as the benchmark. So I made a list of garbage disposals that have an overall height of 13 inches or less. So in my definition, a compact garbage disposal is one with 13" or less height. I think it is justified because there aren't many disposals qualifying this criterion.
In the above list, I omitted some disposals even though they qualified because they are very similar to the ones already listed. Also, I didn't consider every brand, just the top ones.
A Brief Overview Of The Top Low Profile Garbage Disposals
All the disposals in the above list were already reviewed in this blog so I don't think it is useful to review them again, so here I am just giving you the condensed version of my reviews.
1. InSinkErator Evolution Compact
It also uses Sound Seal technology (a noise insulation technology) which makes it the third quietest garbage disposal by InSinkErator. It also uses a 2-stage grinding system to finely grind all food wastes disposed of. These grinding stages enable it to handle small bones and such hard foods which normal disposals can't handle.
Its overall dimensions are 12-1/4" height and 8-3/4" width which makes it compact.
This disposal comes with a warranty of 4 years. Even for a large household, this garbage disposal is an excellent choice. You can read my complete review of it here.
Note: Evolution Essential XTR is also a low profile disposal, but didn't make it to this list since it is very similar to Evolution Compact. Here is a comparison between the two.
2. InSinkErator Evolution Excel
It has a large grinding chamber with a capacity of 40oz and is continuous feed type.
Evolution Excel comes with certain features you don't see in other disposals. The jam sensor circuit and auto-reverse grind system are good examples. These features prevent the disposal form jamming even when disposing of tough food items. It also comes with a 7-year warranty.
Its dimensions are 13"x9". Some websites list its height as 13.5" but it is actually 13" according to its spec sheet.
Evolution Excel is the top-notch disposal. It is also costly but is worth every penny. You can read my detailed review here.
3. InSinkErator Badger 5
It comes with a warranty for 2-years. This disposal is the best for small households looking for an economical solution to dispose of food wastes.
Check my detailed review of Badger 5
4. Waste King L-1001
Its overall size is 12-11/16" x 5-3/16" (as per its spec sheet).
The L-1001 garbage disposal is an economic model suitable for small households.
5. Kitchen Aid KCDB250G